Len & Colleen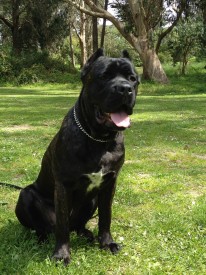 We had been thinking about getting a dog for a while and we came across the Golden State K9 website and thought this website looked intriguing. After many calls back and forth, we felt extremely comfortable with proceeding with the purchase of a dog and a training package.
We were paired up with Tim Hardester as a trainer since Day 1 in our commitment to our dog. We are understating Tim's skill and talent when we say he is a great trainer. We have relied on Tim so much since we purchased our dog and couldn't imagine raising a puppy without Tim's support and knowledge.
Like novice parents, we were very insecure when it came to our puppy's every move and Tim provided solutions to all our concerns. He is very reliable and we would, without hesitation, recommend his service to friends, family and even strangers.
To date, Tim continues to work with us to ensure our puppy upholds his sound training and obedience. Tim takes time to get to know us and our dog. He has become our trainer and friend over time. We trust him with the development of our puppy and will continue to use Golden State K9 because of Tim's commitment to us and our dog
Suzanne, Zeus & Chase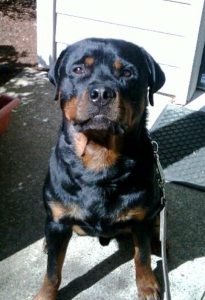 Hi Tim and GSTK9,
I wanted to tell you thank you, for making the trip down here to do the agitationtraining with Zeus. Since the passing of my last dog Ruddy I haven't felt safe in my home. Living in a big city with the crime rate escalating up and the police always busy, and security systems easily bi-passed, I have had a really hard time feeling safe. The night that we did the agitation training with Zeus I realized( as I remembered all the training you had shown me) that you had turned him into a man stopper but yet 15 min later he was playing with little girls down the street like nothing had ever happened. it was the most amazing thing I have ever seen. I have to tell you Tim this is the 3rd dog that you have trained and each time I learn something new and you are so patient and have so much knowledge you amaze me. My life is so enriched by you and my dogs are so empowered by you that I want to make sure you understand just how much of adifference you have made in our lives.
Thank you again,
Suzanne, Zeus and Chase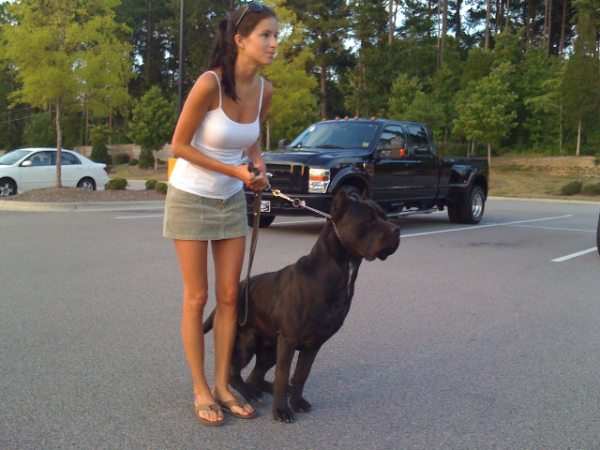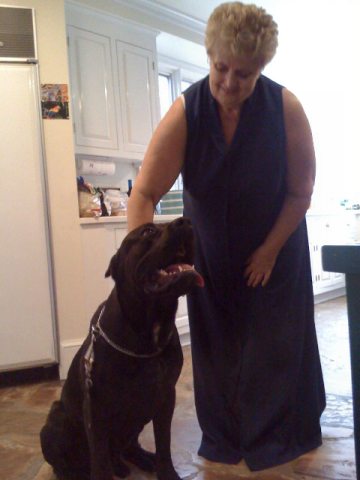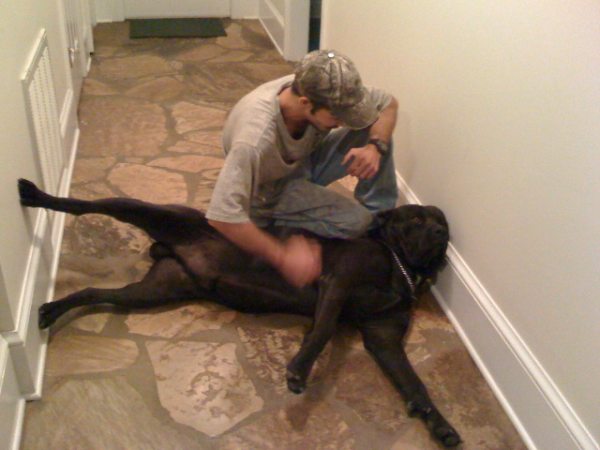 Michael Bergman
To Whom it may Concern:
I am writing this letter to show my appreciation towards Golden State K9 Training. We added Diesel to my family in December of 2006. Diesel came from Scandifio Cane Corso (Tony), and that was only the beginning. Diesel came to our family as the cutest lil black pup. Before I chose to get diesel, my heart really desired to have a K9 protection dog. I had spoke with Tony at Scandifio and he highly recommended that I get in touch with Mike Caporicci. I did my homework, and talked with many training companies about my needs/concerns. I had very specific needs, and flexibility with training my companion. I own a few companies and work is always plentiful, little to say my time was valuable to me! I had no question after Mike Caporicci came down to do an evaluation on 'Diesel', that I would want him to train my newest family member. I have small children, and several other animals in my family, and Mike was very understanding of our needs and was able to cater to them (without having to deviate from the rigorous training). Far from other companies, Mike went outside of any typical expectations. I noticed behavioral changes in diesel at only 12 weeks of age.
When diesel started his relationship with me and my family as our protector, Mike was frequently in touch with me, and kept tight communication. Mike was able to nit pick every flaw in our handling, not to be a pest, but to give us a better understanding of the training, and what the dog is thinking. Which in return gave us a better feeling for why we were doing what we did with Diesel. I can remember calling Mike after a frustrating day with diesel. Mike would ask all the right questions, and explain his behaviors. That is what made working with Golden State K9 Training a success for us. Working hands on with our own dogs brought us closer to him and made Diesel the outstanding companion that he is. Diesel is 3yrs old now, and has been working for us since he was a pup! He has outstanding drive, and loves to make us proud. Working with Golden State K9 has given Diesel the ability to exert his true potential.
A FIRST CLASS PROTECTION DOG is what he is now. The controllability, obedience and respect that Diesel has with us (his handlers) is above and beyond anything you could imagine. Diesel is north of 115lbs, I am 5'11" 205lbs, and he handles just as well with me as my 5'2″ 92lbs girlfriend! Not only does he obey, his work ethics never die! Diesel is a gentle giant, he has great manors with my 1 and 2 yr old niece/nephews. With the training, we are able to let them play in the yard and have their UNCLE DIESEL watch them, giving us the comfort to turn our backs for a split second and not have to worry about the demented people of our world. Diesel also gave my girlfriend the confidence to go out to her car at night and even walk downstairs in the middle of the night to get a glass of water (my girlfriend seems to be afraid of her own shadow at times!). I own real estate (Low income housing) in the roughest parts of Durham, NC, and Diesel finds himself working with me in the "projects" where we go into vacant homes on a daily basis to inspect move outs and vandalized properties, that have been trespassed by gangs and drug addicts. These dangerous environments provide me with dangerous, life threatening situations at times, which diesel has been there to answer. It is always interesting to see people's reactions when getting out of the vehicle with my trained Corso. It seems to take all bad intentions out of their minds as far as posing any threat to me, as Diesel sits-stays-focus (Looks Intimidating). Not to mention that I am NC-CCW holder, having Diesel gives me an added sense of security, and I KNOW that he has my back, and WILL produce when prompted. I hope that who ever reads this will seek no further, and choose Golden State K9, for the sake of their family. I know that I couldn't have enjoyed Diesel as much without the assistance of Mike Caporicci (GSTK9)! THANK YOU!
Sincerely,
Michael Bergman
mjbergman@me.com
Ricky Watters
"Having two dogs trained by Golden State K-9 Training has been a very positive experience. The control I have is outstanding and their companionship is unequaled."
…Ricky Watters
All Pro Running Back

San Francisco 49res
Kristin Mulhall
" To Whom It May Concern:
Having a dog trained by Golden State K-9 has been a great experience. Cane is wonderful with children and other animals. Not only do I have outstanding control; over Cane, he is also a wonderful companion. I was worried that he would be aggressive toward other animals and children, but it is the exact opposite. I will never feel unsafe again thanks to Golden State K-9 "
Sincerely,
Kristin Mulhall
Teresa Lundeen
" I had a rather unique case that involved stalking, threats of violence and actual attempts to break into my home. I had purchased the Shepard with the hope of providing some sort of safety measure. I also had a young child in the house and would not have an out of control, aggressive dog. The trainers at Golden State K-9 did a great job of molding the training program for the good of the dog as well as myself."
…..Teresa Lundeen
Karl Corbett
" I want you to know how pleased I am with Anja, she has been everything we expected of a security dog and much, much, more. She is great with our children and she makes a terrific pet as well. Your follow up training is invaluable, and in six short months I feel like an expert."
…….Karl Corbett
Sebastian Janikowski
"Buying Gunner and working with Golden State K-9 has been a very positive experience. They are "all pros" and have a winning team!" ….. Sebastian Janikowski
Suzanne, Rocky, Ruddy and Zeus
Hi,
I have had both my dogs, Rocky and Ruddy trained by Tim at Golden State K-9, and I have to say it was the best experience I have ever had. There is nothing better than feeling protected at all times by your own personal bodyguards. I had always hoped that I wouldn't need to use their protection training, but twice it was put to the test and they saved not only my life but the life of my daughter as well once outside of our home and the other while we were sleeping.
I love being able to come home at night and know that my house is completely safe, and if I want to take walks in the evening time or go hiking or anything that I want to do, I can do that with complete safety.
As my dogs are much older now I am returning to Golden State K-9 for the training of a new puppy and I look forward to working with Tim again. It is great to have a trainer that I can call on with any questions that I may have. I honestly can say I wouldn't let anyone else train my dogs but Golden State K-9.
Thanks Tim for making one single mother feel safe again.
Suzanne, Rocky, Ruddy and Zeus