Cane Corso Protection Dogs in Detroit – GSTK9 breeds and trains Cane Corso Protection Dogs – Select working dog lines – At your side training.
Cane Corso Protection Dogs in Detroit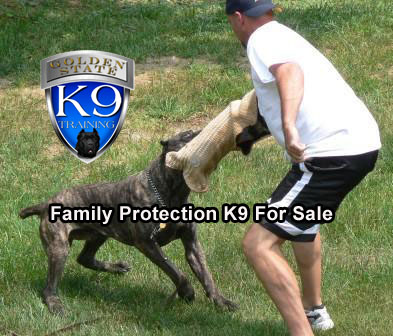 Of all the dog breeds, there is no dog that is more impressive in protecting you and your family than a Cane Corso.
But like any working dog, whether herding sheep or sniffing for bombs, it must be bred from select working lines. Additionally, any protection dog must be trained at your side and at the side of all family members. Doing anything less is all too similar to handing a loaded pistol with the safety off to a child.
Cane Corso Protection Dogs in Detroit – GSTK9 Protection Dogs
At Golden State K9, we have clients all over North America, South America and Canada. But if you are looking for serious Cane Corso protection training in Detroit, we welcome the opportunity to speak with you.
GSTK9 has more experience in North and South America when it comes to the Cane Corso than most every other guard dog training company. For almost 3 decades, we have been breeding solid lines with correct temperament, selectimg only the Cane Corso pups displaying the the most desirable traits as it relates to family protection. Add in our proper training by a Master Trainer results in a huge difference when dealing with a Cane Corso.
If you are looking for someone to teach you dog how to sit, fetch, roll-over and play dead, GSTK9 is not the company for you. We would highly recommend taking your Cane Corso to PetSmart, PetCo or any of the other so-called dog training and obedience companies out there. If you are looking for the best option in family protection, read on.
Cane Corso Protection Dogs in Detroit – 3 Things to Look For
Temperament
When searching for a Cane Corso for individual and family protection, it's important to choose the right puppy.
As a puppy, early and frequent socialization is essential. Purchase a Cane Corso puppy from a breeder who raises the pups in the home and ensures that they are exposed to ordinary household sights and sounds. Socializing a Cane Corso early in his life by is the only way he can learn to be discriminating between what is normal and what is truly a threat to you and your family.
Here at GSTK9, we've been selection Cane Corso Puppies for nearly 30 years. And we've learned a thing or two.
Choose from Working Lines
When graduating from "deterrent dogs" to "man-stoppers" it's important to get a Cane Corso from "working lines".
One way to look at this is just about any Australian Shepherd can catch a Frisbee. As a matter of fact, most of them love to play, and they are a natural at Frisbee. But it takes a special one, from working lines, to round up a flock of sheep on a country hillside with nips and barks that show anyone nearby "I'm in charge".
The same is true with Cane Corso Protection Dogs. All Cane Corsos look impressive. They are a large impressive breed. Most will bark and growl, pretty much as most any dog at home at night at a prowler. But you need a trained dog from working lines to "attack and protect". You must remember that personal protection dogs have to possess characteristics that are usually only found in dogs when they are bred to have these characteristics.
What most folks do not realize is that in instances where people employ personal protection or police dogs – they get them from breeders who breed SPECIFICALLY for that. So your chances of getting a trainable personal protection dog from a regular breeder or shelter is essentially "slim to none".
The Right Training at Your Side
Most importantly, when training at the man-stopper level, You must perform At Your Side Training
Here at GSTK9 it's mandatory that we do personal Cane Corso Protection Training at your side. A common myth is that you can send your dog off for training, spend an afternoon with the trainer and your new pet, and live happily ever after. Fact:  Safe protection training demands several hundred hours of dedicated work under the direct supervision of an expert, professional Cane Corso trainer.
If you are in the market for Cane Corso protection dogs in Detroit, or anywhere in the US, we need to be very clear here. And it's something that other trainers rarely discuss with you.
It takes at least 18 weeks for your new Protection K9 to become fully bonded with your family. This is why ALL of GSTK9 dog's protection work is done at your side. After this time and only after, bonding is complete and control is given to the client. Without this bond and training, it is like giving a loaded GUN to a child!
If you want a Protection K9 that listens to your commands better than your children do and will not only deter potential threats to you and your family but will put an end to a would-be attacker – then we need to talk.
info@gstk9.com